Signs of a biotech backlash?
Genetically modified seeds are still popular, but farmers question the high costs and the rise of herbicide-resistant weeds.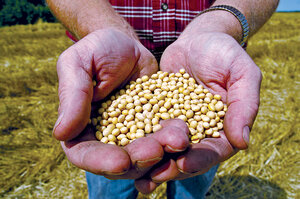 Dan Gill / AP / File
On the eve of planting, Paul Taylor, a corn-and-soybean farmer in north central Illinois, made a quick decision.
The signs were auspicious: The sun was shining, the air was warm, the fields were dry. So he returned the 50-pound bags of expensive, genetically modified seed corn that were waiting in his shed and planted instead ordinary hybrid seeds, the kind his grandfather might have sown. An early start and lower seed costs could pay off at harvesttime.
"I'm going to roll the dice on it," he said after planting.
Even as most farmers embrace genetically modified crops, some producers are casting a critical eye on the technology. Corn Belt farmers complain loudly about the soaring cost of seed. The federal government is investigating the industry for anticompetitive practices. Farmers are grappling increasingly with weeds that have grown resistant to Roundup, an herbicide widely used with genetically modified crops, and genetic contamination of conventional crops.
"If you've got your conventional seed right next to your neighbor's [biotech] seeds, the pollen flies," says John Schmitt, a corn-and-soybean farmer in Quincy, Ill., who had to sell a third of his conventional corn at lower prices last year because of contamination. "It's nature."
Even the US Supreme Court has gotten involved, lifting an injunction against the planting of genetically modified alfalfa.
There's little evidence so far that farmers have turned against genetically modified crops. The most popular trait, tolerance to Roundup, allows them to kill weeds easily without harming their crop. Other genes enable crops like corn essentially to manufacture their own insecticide. This saves farmers the trouble and expense of applying insecticide to their fields when a problem arises.
---