Frozen vegetables recall: glass shards in Wal-Mart, Kroger veggies
Frozen vegetables recall was announced after customers reported glass shards in the packages. Here's a list of the Wal-Mart and Kroger products affected.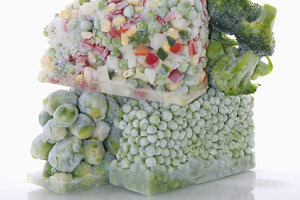 Photo illustration / Frank Muckenheim / Westend61 / Newscom / File
A Tennessee company is recalling 12 tons of frozen peas and other frozen vegetables marketed by Kroger and Wal-Mart because they may contain pieces of glass.
Customers have reported finding glass shards in their packages, which prompted the frozen vegetables recall by The Pictsweet Company of Bells, Tenn. No injuries have been reported.
If you have Kroger brand frozen vegetables purchased in the southeastern United States – or Wal-Mart's Great Value brand bought anywhere in the US – check the UPC (bar code) on the package. The UPC bar code is located on the back panel of the package. If your UPC code matches, check the production code (Kroger) or the "best by" date (Wal-Mart). "Only those production codes [or dates] are affected by this recall," explained spokeswoman Anne Tyrrell. "That UPC code has other production codes under it" that are not affected.
---