Bernanke: Fed is probing flawed foreclosure process and its risks for economy
Paperwork mess surrounding the foreclosure process is under investigation by several agencies. The Fed is one, Chairman Ben Bernanke said Monday.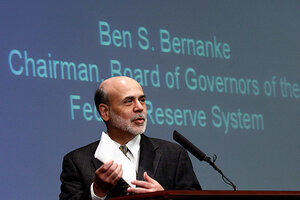 Jim Young/Reuters
America's tide of foreclosures has been overshadowed, for now, by something even more perplexing: uncertainty about whether proper legal practices have been followed when homes pass from one owner to another.
Ben Bernanke, the chairman of the Federal Reserve, said regulators from the Fed and other agencies are "looking intensively" to see if "improper foreclosures" are occurring. Preliminary findings from the investigation could come in a month, Mr. Bernanke said in a speech Monday.
The Fed is considering not just the scope of paperwork problems but also their implications for the economy, including "the potential effects of these problems on the real estate market and financial institutions," Bernanke said.
Public concerns have been rising since Sept. 17, when GMAC's mortgage division said it needed to temporarily suspend foreclosure activities in 23 states because of potential flaws in documentation. Some other loan servicers followed suit, and all 50 state attorneys general called for an investigation. Federal agencies have launched their own probes.
On the surface, this new mortgage mess is about loan servicers who may have cut corners in the rush to file a record number of foreclosures. The symptoms, uncovered in lawsuits, include "robo-signing" of affidavits (attesting to information without checking that it's true) and signing key papers without a notary present.
---