Start your Thanksgiving in the office
Thanksgiving in the workplace: Thanking employees and fellow workers isn't just polite, it can boost morale and productivity.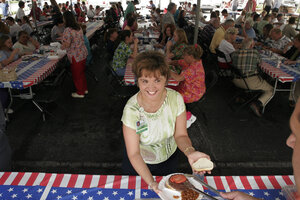 ZUMA Press/Newscom/File
Before the feast – before the frenzied airline travel or family gatherings on Thursday – suppose Thanksgiving began at the office.
It could be Thankful Tuesday or Gratitude Wednesday. Bosses could close early and use the time to thank employees. Employees could thank their bosses, too.
What would happen in the workplace? If the thanks were sincere, it could go a long way toward improve the working atmosphere and, quite possibly, boosting productivity, workplace experts say.
"Gratitude expressions from managers can help employees feel valued, strengthening their relationships," says Adam Grant, a management professor at The Wharton School at the University of Pennsylvania in Philadelphia. "When employees feel socially valued, they work harder and longer, achieving higher performance and productivity."
In one of his experiments, 41 fundraisers soliciting alumni donations were divided into two groups: the thanked and the un-thanked. One group heard the director say, "I am very grateful for your hard work. We sincerely appreciate your contributions to the university." The other group received daily feedback on their effectiveness, but no gratitude from their director.
The result? Fundraisers in the thanked group increased their weekly call volume an average 50 percent, according to a recent study by Mr. Grant and Francesca Gino, a professor at the Harvard Business School in Boston.
---