Gas prices: 'Tis not the season for $3 a gallon. What happened?
Gas prices are near $3 a gallon, which is high for the holiday season. Retailers are nervous about the impact on consumer spending, but analysts say prices should start to come down soon.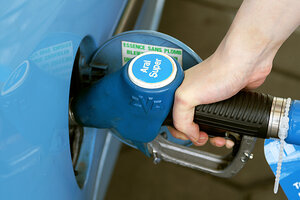 Chromorange/Stolt/picture-alliance/Newscom
Call it the Grinch in the gas tank.
With only about 2-1/2 weeks until Christmas, the national price of gasoline is $2.98 a gallon, closing in on the three buck mark, a level the nation has never seen this late in the holiday season.
In many states, $3 a gallon would be welcome since they are already much higher. In Hawaii, motorists are paying $3.54 a gallon and $3.51 a gallon in Alaska, according to AAA, the national motorists organization. But, even in New York gasoline costs $3.23 a gallon and in California it's $3.24. Last year, the price of gasoline was 35 cents a gallon cheaper.
Retailers are nervously watching to see what the higher gasoline prices mean.
"It is an additional shock to your wallet that you were not expecting," says Kathy Grannis, a spokeswoman for the National Retail Federation in Washington. "But, we are not hearing that consumers are worried in the long run on the effect of gas prices on their wallets."
When gasoline prices rise, they siphon money directly out of Americans' pockets.
"This is like a tax increase, if you put more money into the gasoline tank, you have less money to spend on everything else," Mark Zandi, chief economist of Moody's Analytics, said in November when gasoline prices were 10 cents a gallon lower.
Back then he calculated that if the rise in gasoline prices were to last through the year, it would cost consumers $35 billion. "That's roughly half the cost of providing the tax cut to the upper income group for one year," he said.
---