Surprise! Women started more firms than men.
Before the recession, women were starting twice as many firms as men. Now, they may do even better.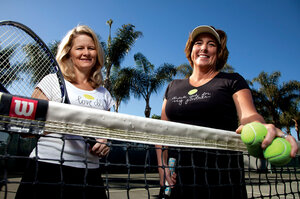 Fred Greaves/Special to The Christian Science Monitor
Ruth Marvin Webster and her tennis partner, Kathy Doherty, spent years making puns at their racquet club: "Love all," "Get a grip," "Tightly strung," "Yours!" They'd even joked about turning their witticisms into a T-shirt business. So after Ms. Webster was laid off in 2008 from her job as a features writer for a San Diego daily, the pair took the plunge and started Net Wit, a business so new that its website only went up in mid-November.
"The economy is the reason we started the company, absolutely," Webster says. Of course, the sour economy hasn't helped the bottom line. "It's harder to make a sale because it's frivolous," she says. "You can live without a tennis shirt. Maybe not as happily, but you can live."
If opening a business demands courage, opening one in the aftermath of the worst economic downturn since the Depression demands a special steeliness, especially for female entrepreneurs. Because women-owned businesses are concentrated in retail and service industries – think Estée Lauder, Coco Chanel, Mrs. Fields Cookies, even Zipcar – they were among the first to feel the downturn. Now, in a fragile recovery, the business climate requires other qualities, like resourcefulness and patience.
---