Haiti one year later: Got trash? Make thread.
One year after Haiti's devastating earthquake, Pittsburgh entrepreneurs aim to help Haitians turn garbage into high-performance fabric.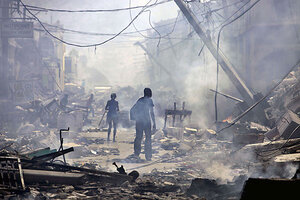 Gregory Bull/AP/File
One year after Haiti's devastating earthquake, the country is still in the early stages of recovery. While financial aid, food and medical supplies have made it to the island nation, which is considered to be one of the poorest countries on earth, many argue that little has been done to improve Haiti's long-term economic stability.
A Pittsburgh-based group of entrepreneurs is trying to change that. Known as THREAD (The Haitian Redevelopment Directive), the organization is committed to building a factory that turns discarded plastic bottles into fabric for use in high-performance apparel. They hope the factory will be operational by year-end.
The Haitian factory, which plans to initially employ 10 to 15 workers and pay them a fair wage, would be able to supply the fabric to end users at a lower cost than companies located in other parts of the world, while providing jobs and a de facto sanitation system for Haiti's people.
"I've been all over world," said THREAD's president and CEO Ian Rosenberger. "The two things I see most are poverty and trash."
THREAD's factory would address both problems. By paying locals to recycle their trash, while providing skilled jobs for Haitian citizens, the business would create an economic system that addresses the need for jobs, infrastructure and hope for the future development of Haiti into a country that can compete economically and stand on its own one day. It would also provide a roadmap for the birth of a business that could be used to build factories in other parts of Haiti and in other developing countries.
---