State budget woes: How much will they drag down US economy?
Cutting employees, raising taxes, and delaying payments to vendors could slow economic recovery, experts say, but perhaps only slightly.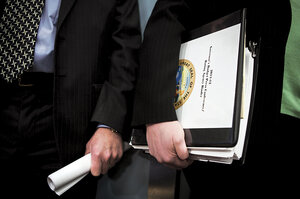 Max Whittaker/Reuters
States and cities collectively face the most precipitous decline in revenues on record, and the economy, while improving, does not appear to be picking up fast enough to prevent new layoffs of public employees and deep cuts in public services this year.
The budgetary downsizing is expected to act as a drag on overall economic growth, as the housing market has for the past three years. Just how heavy will this particular anchor be?
Economist Mark Zandi of Moody's Analytics in West Chester, Pa., estimates that state and local governments will lay off 150,000 more workers, after giving pink slips to 250,000 in 2010. Belt-tightening by state and local governments will shave 0.4 percentage points off America's gross domestic product this year, he predicts.
IN PICTURES: Pensions around the world
"It is a significant head wind, but it won't blow the recovery over," mainly because other head winds are subsiding, he says.
Like almost everyone else, states and cities have already endured two tough years. With the recession, their revenues fell, forcing pay cuts, layoffs, service reductions, and intense hunts for new revenue streams – sometimes all at the same time. What makes this year different is that states can't expect much help from Uncle Sam via a new stimulus package, meaning budget cuts are likely to be deeper than in the past couple of years.
---