McWeddings? Sure. Or tie the knot at Taco Bell.
McWeddings in Hong Kong are only the latest iteration of the fast-food wedding. Besides McWeddings, couples get married at places like Taco Bell and White Castle.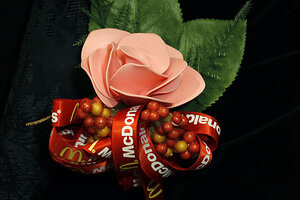 Bobby Yip/Reuters
A Hong Kong couple – Kelvin Kwong and Ashley Tse – is drawing worldwide attention for having their engagement party on a Valentine's Day at a McDonald's in Hong Kong.
The chain is promoting McWeddings as a new way to tie the knot.
Except, it's not so new:
In 2006, Trisha Lynn Esteppe and Tyree Henderson exchanged vows at the McDonald's in Fairborn, Ohio, where they worked together and met three years earlier.
In 2009, Rosemary Coones and Clinton Smith, 25 tied the knot at a White Castle in Louisville, Ky. and got a catered reception featuring White Castle's Silver Tray service, sponsored by a local radio station.
That same year, Paul and Caragh Brooks were married at a Taco Bell in Normal, Ill. Employees, who kept serving customers during the ceremony, displayed hot sauce packets labeled "Will you marry me?"
---