NFL lockout: big blow to small firms
NFL lockout could mean millions of dollars of lost sales. Restaurants, team apparel stores could see the biggest impact of an NFL lockout.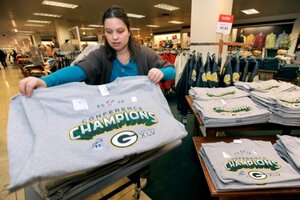 Scott Anderson/Journal Times/AP/File
It's a battle between billionaires and millionaires – but the National Football League (NFL) labor negotiations have more riding on them than just who gets a bigger piece of the pie.
The livelihoods of thousands of small business owners and their employees are at stake in each of the NFL's 32 cities.
Restaurants, bars, team apparel stores and other small businesses located within walking distance of NFL stadiums are bracing themselves for a potential lockout and the ramifications it may have.
With the Green Bay Packers fresh off a Super Bowl victory, Jerry Watson, owner of the Stadium View Bar and Grille – just yards from Lambeau Field in Green Bay, Wis. – said he has been expecting large crowds next season, which could result in as much as 20 percent increase in business.
An NFL work stoppage, he fears, would turn what could be the biggest year in Stadium View's history into one of the worst.
"It would knock out about a third of my business," Watson said. "It would hurt quite a bit."
Canceled NFL games also would mean the loss of about 100 jobs at the Stadium View. On a Packers game day, Watson has about 120 employees working, as opposed to only 20 on a regular Sunday.
The NFL's current collective bargaining agreement expires March 4. The main issue on the table is how to split the estimated $9 billion in revenue the NFL generates each year.
---