Home sales at six-month low, showing weakness even in 'peak' season
Home sales in May stood at 4.8 million – down from 5 million in April and lower even than the figure for winter months. Realtor association cites tight credit and severe weather.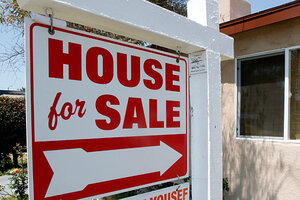 Reed Saxon/AP
US home sales declined in May to their lowest level in six months, as high gasoline prices and a tepid job market weighed on US consumers.
The housing market continues to struggle against several headwinds: a glut of homes for sale, a cool economy, and relatively tight credit conditions. Sales of previously owned homes fell to an annual pace of 4.8 million for the month, down from a revised April figure of 5 million units, the National Association of Realtors said Tuesday.
The median sales price in May was $166,500, which was up from April but 4.6 percent below its level a year ago.
Big picture: Housing remains a central trouble spot in the US economy, some five years after the peak of the housing boom.
The Realtors association pointed to severe weather, along with tight lending standards by banks, as important contributors to the May weakness.
"While these played a role, other housing indicators are pointing to weak demand as the main reason sales are sagging at the [start] of the peak selling season," Patrick Newport, a housing economist at IHS Global Insight, said in a report analyzing the new numbers. "Indeed, one reason credit is tight is because the demand is weak."
Banks, he says, are reluctant to lend on easy terms when the collateral on their loans has been declining in value.
---