Independence Day fireworks: Laxer state laws could mean more in tax revenue
A growing number of states are relaxing state laws on fireworks in hopes of generating a little extra tax revenue through sales and permit fees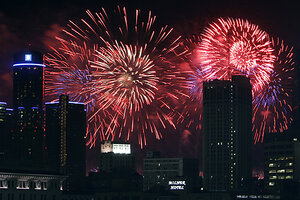 Paul Sancya / AP
States that once pooh-poohed fireworks as dangerous or noisy are starting to come around and acknowledge their true value: up to $1 million a year in tax revenues.
In the last decade, a dozen states have loosened the rules on consumer fireworks, with six of those changes occurring in the past two years as budgets have gotten tighter. Just this year, Kentucky, Utah, and New Hampshire modified their laws to expand what kinds of fireworks can be sold to consumers, and on July 1, Maine's governor signed a bill that legalizes fireworks use, though it won't take effect until next year. Legislation to lift the ban on fireworks has also been introduced in Massachusetts. The only other states that still have all-out bans are Delaware, New York, and New Jersey.
---
Follow Stories Like This
Get the Monitor stories you care about delivered to your inbox.