Gulf oil spill aftermath: 'Drill, baby, drill' era may be gone forever
The Gulf oil spill was capped a year ago Friday, but offshore drilling is still far off its pre-spill pace. With a new regulatory agency putting a greater emphasis on safety, the industry might have to adjust to a new normal.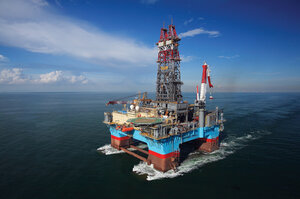 Business Wire
One year after the Gulf oil spill was first contained, the offshore oil industry is struggling to adjust to a new normal that could affect the Gulf Coast for years to come.
With federal government watchdogs policing offshore oil operations more diligently, the pace of oil exploration and drilling has dropped as the permit process slows.
The result is that the deepwater drilling moratorium – lifted last October – is essentially still in effect, say frustrated oil industry officials. The only companies seeing robust growth are those dealing with safety.
Over time, as the federal government streamlines its new safety protocols, the pace of approvals could quicken, allowing companies to find and produce more oil, experts say. But the heady days of the prespill regime, when offshore oil projects were often approved with rubber-stamp speed, could be gone forever, meaning the industry and the Gulf Coast economy will need to find a new balance point, they add.
"It's inevitable that any review that is going to be real is definitely going to slow down the process," says Albert Lin, who teaches environmental law at the University of California, Davis. "These are complicated operations, and I don't think they were looked at adequately before."
The Gulf oil spill, which began with the explosion of the Deepwater Horizon oil rig on April 20, 2010, ended with the cementing of the Macondo well on Sept. 18. On July 15, however, BP fit a cap over the leaking wellhead. Before that point, 4.9 million barrels (205 million gallons) of oil had vented into the Gulf of Mexico.
---