Netflix stock nosedives 19 percent after company ticks off customers
Netflix stock took a wallop after Netflix predicted 1 million US customers would cancel their subscriptions.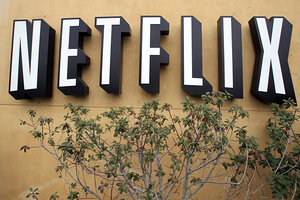 Paul Sakuma/AP/File
After rocketing up last year, Netflix's stocks tumbled almost 19 percent Thursday.
Earlier this year Netflix CEO Reed Hastings saw his pay double after stocks tripled. The web-based movie rental company had released set-top devices and partnered with makers of consoles like PS3, Xbox, and Wii to make it easier for customers to stream movies and TV shows to their living rooms. In March, Netflix announced its first exclusive serialized drama, "House of Cards," staring Kevin Spacey.
Their streaming videos had become so popular that Sandvine reported in May that 22 percent of all North American Internet traffic was from Netflix (by comparison, YouTube videos only accounted for 8 percent).
---
Follow Stories Like This
Get the Monitor stories you care about delivered to your inbox.