Sprint iPhone has investors worried
Sprint iPhone: Did Sprint pay too much for it?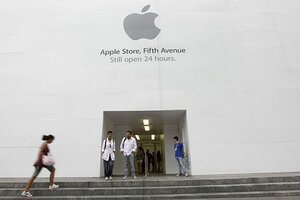 Richard Drew/AP/File
Sprint has reportedly signed an exclusive deal with Apple for the first few months of the new iPhone. If true, the deal would mark a major coup for a phone carrier that is ranked third nationally and has been bleeding customers since 2006.
The rumors, reported by BGR, would mean Sprint will be the exclusive carrier for the new phone until early 2012, when AT&T and Verizon begin selling the device.
So how did Sprint pull this off? The carrier has lagged behind competitors for years but managed to snag an exclusive contract for the much-anticipated iPhone update.
According to a Wall Street Journal report, Sprint committed to buy at least 30.5 million iPhones for approximately $20 billion. The problem some see is that Sprint is risking it all on the new iPhone. The carrier has a market capitalization of just $8.4 billion, compared to their $20 billion commitment.
---