Black Friday online deals lure shoppers to make it a cyber Black Friday
Black Friday online deals are available on everything from laptops to loudspeakers. Some bargains are short-lived. Others will last through the weekend, into Cyber Monday, and beyond.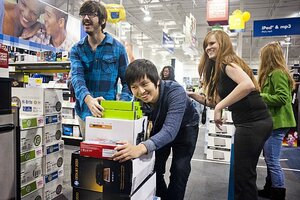 Michael Conti/The Houma Courier/AP
From computers to clothing and movies, some of the most attractive and accessible Black Friday shopping deals were online rather than in retail stores. And Americans flocked online to catch the falling opportunities.

The deals are available at many of the same stores that promote heavy Black Friday traffic in their physical locations, such as Best Buy and Walmart.

Radio Shack offered $100 off an Xbox 360 gaming platform with Kinect Motion Sensor, bringing its price to $199.99.
---