Red Robin "Jim Day": Free burgers for all Jims, Jamies, and Jimbos
Red Robin is giving away a free burger to people named Jim as a part of a promotion for the new Sweet Jim Beam Bacon Swiss Burger. The Red Robin promotion runs through Dec. 6.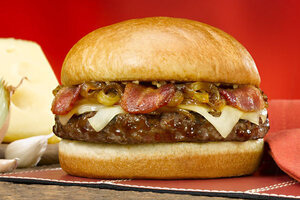 Red Robin
Sometimes a good name will take you far. Or, at least, as far as a free lunch.
For Dec. 6 only, Red Robin is giving away free a free hamburger to anyone who goes by any iteration of the name Jim. It may seem arbitrary, but the giveaway is part of "Jim Day," a promotion for the restaurant chain's new Sweet Jim Beam Bacon Swiss Burger.
The burger, available only through Dec. 24, comes topped with bacon, Swiss cheese, and caramelized onions served on a brioche bun toasted with garlic butter. If you aren't a Jim, the burger will set you back about $10.
Here's how it works: Show up to any participating Red Robin, present a valid form of ID with the first name "Jim" or any derivation thereof (acceptable monikers include James, Jamie, Jaime, Jaimie, Jami, Jamey, Jameson, Jimmy, Jimmi, Jimi,and Jimbo), and claim your free burger. It's worth mentioning that Red Robin has one of the funnier legal disclaimers we've seen in a while at the bottom of the "Jim Day" ad: "Legal ID verifying your Jimship must be provided in-restaurant to qualify."
The deal doesn't include fries or a drink.
If you are a Jim planning to enjoy a free burger today, you might want to get in on the action early: According to US Census data, James was the single most common first name among men of all age groups in the United States as late as 1990, and Red Robin is a sit-down restaurant.
---