Pujols deciding on more than his future as a player
Albert Pujols, one of the best players in baseball, is deciding between $200 million deals from the Maimi Marlins and the St. Louis Cardinals, his current team. What can each provide Pujols–during his playing days and beyond?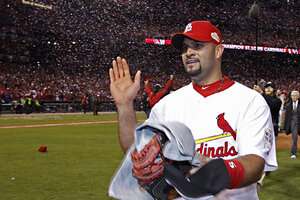 Jeff Haynes/Reuters/File
Most of us will never get to experience of having three organizations fighting over who gets to give us $200 million, but such is the problem plaguing Albert Pujols. The Cardinals' first baseman is currently mulling over deals from three teams: The Cardinals, the Miami Marlins, and a mystery team that many are pegging as the Chicago Cubs. Today, the World Series champion Cardinals upped their offer to $220 million over nine years, trying to avoid the fan backlash that would surely follow a Pujols exit from St. Louis.
"I find it hard imagine him anywhere other than St Louis," says Bruce K. Johnson, an economics professor at Centre College in Danville, KY. "Staying would make him an all-time great in Cardinals and St. Louis sports history."
The Marlins, meanwhile, are courting on the nine-time All Star to stock a team that aims to be a World Series contender. They've already signed two marquee players, shortstop Jose Reyes and reliever Heath Bell. In addition to a 10-year deal somewhere north of $200 million (the exact figure is unknown) the contract the Marlins have offered Pujols contains an interesting twist: provisions that would ensure Pujols a role in the Marlins organization after his playing days, aiming to make him a figurehead of the franchise.
---