Chris Paul trade: Can the Clippers become LA's team?
Chris Paul, the coveted free agent point guard, could turn the lowly Clippers into a serious NBA contender. The addition of Chris Paul to the team is attracting other marquee players.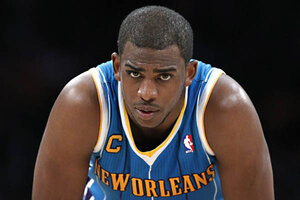 Lucyu Nicholson/Reuters/File
Everybody's talking basketball in Los Angeles, but for perhaps the first time ever, it's not about the Lakers.
That's because the lowly Clippers, the perennial stepchild of the city's basketball scene, have locked up a trade for Chris Paul, the most highly coveted free agent point guard of the NBA offseason.
Paul wasn't a bargain: The Clippers acquired him, along with two second-round draft picks, from the New Orleans Hornets in exchange for guard Eric Gordon, forward Al-Fariq Aminu, and Minnesota's 2012 unprotected first-round draft pick.
But by most accounts, it was worth it. NBA experts are already predicting that Paul's addition to the Clippers will catapult the franchise, which has been embarrassingly inept for most of its existence, into a title contender with ticket sales to compete with its local rival.
The change would be welcome: Throughout their 40-year history, the Clippers have been the NBA's resident joke. The franchise has only had six winning seasons in its entire existence, and only two since moving to Los Angeles from San Diego in 1984. The oldest NBA team never to have appeared in the league finals, the Clippers haven't made it past the first round of playoffs since 1976, when they were the Buffalo Braves. To make matters worse, they share the Staples Center with the Lakers, a franchise that boasts 16 NBA titles, 16 Hall of Famers, and a fan base littered with A-list celebrities.
---