At the retail store, a long line of questions at checkout
Retail stores are increasingly barraging their customers with questions. It's marketing for them. Is it good for you?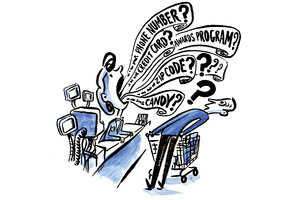 Michael Sloan/The Christian Science Monitor
At Albrecht's Sentry Foods, a family-owned grocery store in Delafield, Wis., cashier Jackie Ryerson says hardy customers are sometimes surprised when she asks, "Would you like help out to your car?"
But Ms. Ryerson is required to ask all customers that question; also, whether they have coupons, a gasoline points card, and, of course, if they prefer paper or plastic. Store management regularly sends "mystery shoppers" through the line to verify that she does.
Increasingly, consumers are bombarded with questions at the checkout counter – May I start with your phone number? What's your ZIP Code? Are you a member of our rewards program? Do you need batteries? Would you like to save 10 percent today by applying for our credit card? In a down economy, merchants not only want to impress customers with attentive service, they are also using sophisticated "business intelligence" software to boost their bottom lines.
This holiday shopping season, such techniques will be on full display. But there are ways to deflect annoying questions – and preserve your privacy in the process.
"I think the consumer ... is feeling put off by all these intrusive questions," says Sally Greenberg, executive director of the National Consumers League in Washington, D.C. "I tell consumers: Think twice before you speak. Why do they want this information and what is it going to be used for? You have no obligation to provide it. You're the customer. You're in charge."
Dismissing questions, however, won't put an end to them.
"Retailers recognize that their greatest source of information on their customers comes at the point of sale," says Lee Holman, lead retail analyst for IHL Group, a global research and advisory firm based in Franklin, Tenn. "With high-powered computing capability and so forth, Pentium-class processors at the point of sale, and heavy-duty database capability in the back office or back at headquarters, they have been tracking information for a long time."
Groceries started using that information in a big way, and now retail stores and online channels are following suit, says Sahir Anand, a retail analyst with Aberdeen Group, a research and survey firm in Boston. "Once you have a segmented customer list, you can cross-sell and up-sell more effectively."
Up-selling is pitching a similar product in a higher price range. Cross-selling – such as suggesting accessories to go with a camera purchase or reminding customers that they might need batteries for a toy – can be a win-win situation, says James Dion, president of Dionco Inc., a retail analysis firm in Chicago. "Probably 95 to 98 percent of people view this as positive."
A more onerous form of cross-selling, which customers do object to, is pushing a specific item at the register, such as gum or diet cola, irrespective of their needs, he adds. "That bugs 60 to 70 percent of the population."
Retailers can learn a lot from buying patterns. That's why sales associates so persistently ask customers to sign up for loyalty incentives, also known as rewards, preferred-customer, or frequent-buyer programs. These can be a good deal. Participants typically get immediate discounts or earn points toward future discounts.
But there's a trade-off. Computerized cash registers track which items members buy, how often, and how much they buy. Retailers use this information to figure out ways to make you spend more.
---