Ford recalls: Is your SUV, minivan on the list?
Ford recalls older Escape SUVs and Ford Freestar and Mercury Monterey for separate safety problems. Fire and loss of power problems triggered the Ford recalls.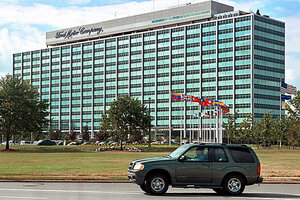 John Hillery/Reuters/File
Ford is recalling some 450,000 older SUVs and minivans for rare problems that could create a sudden loss of power or a car fire.
The second problem is serious enough that if you own a 2001 or 2002 Ford Escape, the automaker suggests that you keep it parked outside to reduce the remote risk of a fire spreading to your garage or home.
"These vehicles have been on the road for 10 years," says Daniel Pierce, safety communications manager for Ford Motor Co., which will begin sending out recall letters Jan. 23 urging Escape owners to have their vehicles checked. "In the interim, we'd recommend parking the vehicle outside of your garage."
Some 245,000 Escapes are involved in the one recall. The other recall, triggered by a a faulty torque converter output shaft that could cause a sudden loss of power, involves all 2004 and 2005 models of Ford Freestar and Mercury Monterey minivans, nearly 206,000 vehicles. Ford plans to alert Freestar and Monterey owners by letter in the second quarter of the year.
With both Ford recalls, owners will be able to schedule an appointment with a dealer and have the work done free of charge. The Escape check and repair can be handled in a couple of hours, Mr. Pierce says. The minivan repairs can be taken care of in one day depending on when the car is dropped off.
---