Five ways to invest in Europe – seriously
Just because there's a sovereign debt crisis doesn't mean there's no opportunity in Europe, especially if investors are selective and defensive.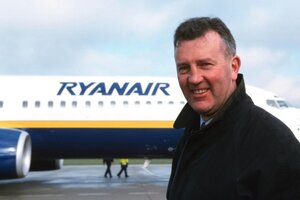 Aeroport Luchthaven/File
Invest in Europe? Now!?
These days, the idea may seem as inspired as lighting a match to a paycheck. Fund investors appear to be fleeing the debt-troubled continent.
But all that tumult and fear can mask opportunities. For market-savvy investors who want to keep a hand in Europe, there are ways to play the still-economically vital region, some investors and market pros say.
"As long as you are selective and take a two-year investment time horizon, you can find interesting investments," says Stan Pearson, head of European equities at Standard Life Investments, based in Edinburgh, Scotland. "Valuations are quite moderate, and you don't have to pay up" to buy the shares of world-class companies.
Of course, venturing into Europe with its still growing sovereign debt woes requires fortitude. Last year (through Dec. 14), bond funds targeting Europe saw net outflows of $27.7 billion, according to EPFR Global, a Cambridge, Mass., firm that tracks fund flows. European stock funds experienced $11.2 billion in outflows (minus Germany, where the outflow was more than $30 billion). So where do you invest when others are pulling out?
Here are five possible strategies:
---