NFLX stock jumps, as Netflix audience returns
Netflix regained 600,000 subscribers after 800,000 left last summer following a rate increase. As the customer count climbs, so has the NFLX stock.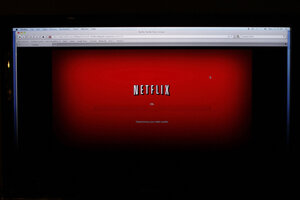 James H. Collins/AP/File
Netflix has regained almost as many customers as it lost following an unpopular price increase, signaling that the video subscription service is healing from its self-inflicted wounds.
Fourth-quarter figures released Wednesday show Netflix Inc. ended December with 24.4 million subscribers in the U.S., up from 23.8 million at the end of September. That gain of about 600,000 customers compares with the loss of 800,000 subscribers last summer after it raised its U.S. prices as much as 60 percent.
The uptick is a positive sign for Netflix after several months of upheaval battered its stock. The shares reversed course Wednesday, surging nearly 16 percent.
The fourth-quarter performance should help bolster confidence in Netflix CEO Reed Hastings, who was skewered in Internet forums and analyst notes for miscalculating how subscribers would react to higher prices.
A contrite Hastings had promised that Netflix would lure back customers, and so far it has been even more successful than he forecast.
"You are never as smart or dumb as they say," Hastings said in a Wednesday interview. "We know we are just beginning to climb back in terms of consumer trust and affection."
The fallout from the earlier customer defections contributed to a 14 percent decrease in Netflix's fourth-quarter earnings.
Netflix made $40.7 million, or 73 cents per share, in the final three months of last year. That compares with income of $47.1 million, or 87 cents per share, a year earlier.
Investors had been bracing for a bigger drop-off. Analysts polled by FactSet had forecast fourth earnings of 54 cents per share.
Revenue climbed 47 percent from the previous year to $876 million — $19 million above analyst projections.
---