Sheryl Sandberg, Facebook COO, made $30 million in 2011
Sheryl Sandberg, the No. 2 person at Facebook, pulled in a sterling salary last year. Even Mark Zuckerberg made only a small fraction of Sheryl Sandberg's total 2011 earnings.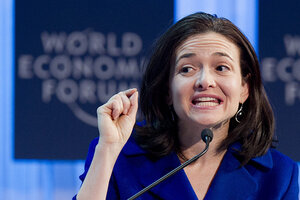 Jean-Christophe Bott/Keystone/AP
Facebook's second in command COO Sheryl Sandberg was compensated millions more than any other Facebooker in 2011 — founder and CEO Mark Zuckerberg included.
The social network's leading lady took home $295,833 in base salary, $86,133 in bonus money, and $30.49 million in stock awards (an estimated value) for a grand total of almost $30.9 million in 2011.
The juicy tidbit was unearthed in the executive compensation section of Facebook's S-1 document, filed Wednesday.
Zuckerberg, by comparison, took home a paltry $1.49 million for the year. The figure includes his base salary of $483,333, bonuses totaling $220,500, and $783,529 in other compensation (fun footnote alert: Zuck's other 2011 compensation included $692,679 for personal aircraft charter costs and $90,850 for estate and financial planning). On the ownership front, however, Zuckberg has a 28.2 percent stake in the company, while Sandberg owns less than one percent of Facebook. So with a rumored valuation of $100 billion, Zuckerberg could be worth more than $28 billion.
---