Time Warner Cable, MSG reach deal. Linsanity at work?
Time Warner Cable and MSG sports have ended a seven-week blackout of Knicks games for TWC customers. Fan furor over Jeremy Lin – 'Linsanity' – probably played a huge role.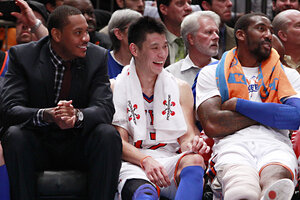 Fank Franklin II/AP
Is there anyone more perfect for the Chiantown sports fan to root for than Jeremy Lin? He's a New York Knick, the first Asian American to play in the NBA, and he's taking the world by storm. Asians and Asian Americans alike are claiming him as their own, but for the perennially disappointed Knicks fan, Lin is a far-flung dream come true.
Yes, Lin committed nine turnovers Friday night, allowing the New Orleans Hornets to put an end to the Knicks seven-game winning streak. But "Linsanity" lives on. Lin may have single-handedly resolved a dispute that prevented millions of his local fans from watching him on television.
Time Warner Cable and the regional MSG (Madison Square Garden) network, which broadcasts all Knicks games (as well as those of the NHL's Rangers, who also play at the Garden), have reached an agreement allowing Time Warner to begin airing Knicks games in the New York area. The two companies were embroiled in a contract dispute, which resulted in the channel being blacked out for approximately 2.8 million Time Warner customers since Jan. 1.
The dispute was over how much Time Warner will pay to carry MSG: It currently costs cable providers $2.56 per household to carry the network. Time Warner claimed that MSG was demanding a 53 percent increase in subscriber fees; MSG claimed that Time Warner was lying about that figure but wouldn't publicly specify their demands.
New Yorkers didn't seem to be paying much attention for the first few weeks. The Knicks looked to be on track for another disappointing season, and fan outcry was minimal. Then two weeks ago Lin came along, and all eyes have been fixated on the Knicks ever since. Or at least, they've wanted to be.
Since Linsanity hit, thousands of irate TWC subscribers have intensified pressure on the provider to get a deal done. On Twitter, profanity-laden posts from frustrated TWC customers begged the two companies to end their impasse and get the Knicks back on the air. "@MSG @timewarnercable please resolve and get #Knicks #Linsanity #NYR back on the air in NYC," says Christopher Meron (@chrismaron), in one of the more civil posts.
---