Microsoft wages patent battle with Motorola and Google
Motorola has been hit with complaints from Microsoft and Apple regarding strict patent regulations, while Motorola says both companies are taking too many liberties with its patents. Will they reach a compromise?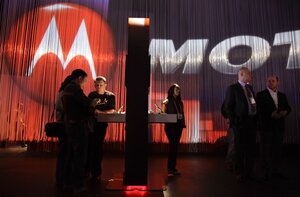 Julie Jacobson/AP
Microsoft on Wednesday lodged a formal complaint with the European Union's competition regulator against Motorola Mobility and its soon-to-be owner Google, saying Motorola's aggressive enforcement of patent rights against rivals breaks competition rules.
The complaint follows a similar step by Apple against Motorola last week.
Motorola is in the process of being taken over by Google for $12.5 billion, the biggest acquisition in the Californian company's history. Microsoft fears that Google will continue Motorola's tight hold on key patents.
Apple Inc. and Microsoft Corp. have been hit by legal cases in Europe and the United States, with Motorola claiming that the companies' products are using key patents it owns without permission.
Apple and Microsoft, meanwhile, argue that Motorola is overcharging for the use of these patents, which cover technologies necessary to connect wirelessly to the Internet or stream video online.
"We have taken this step because Motorola is attempting to block sales of Windows PCs, our Xbox game console and other products," Dave Heiner, Microsoft's deputy general counsel, wrote in a blog post.
"Motorola is on a path to use standard essential patents to kill video on the Web, and Google as its new owner doesn't seem to be willing to change course," Heiner added.
A spokesman for Google Inc. said that the company had not seen the Microsoft complaint.
A spokeswoman for Motorola didn't immediately respond to an emailed request for comment.
---