February jobs report brings some cheer for older workers
Older workers, the group hit hardest by the recession and slow recovery, landed the bulk of new jobs created by the improving economy, the February jobs report showed.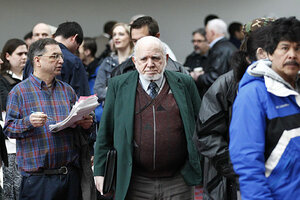 Rick Bowmer/AP
The improving job market – with the economy adding 227,000 jobs in February – is even starting to benefit one group that has suffered the most: the older worker.
Over the past three months, according to the Bureau of Labor Statistics data, the bulk of the new jobs has gone to workers 55 years or older. In fact, since the beginning of December, older workers have added 923,000 jobs compared to a loss of 300,000 jobs for much younger workers.
According to economists, the surge in hiring of older workers is related to the difficulty many older workers are having in making ends meet. Retirees are either rejoining the work force or postponing their retirement altogether. As a result they are taking jobs that younger Americans would normally have.
"They are pushing out the younger worker," says Sung Won Sohn, an economist at California State University, Channel Islands. "They are bagging groceries, working at gas stations."
In February, for example, some 277,000 older workers got jobs, according to the Bureau of Labor Statistics data. This followed an increase of 558,000 in January.
It's not surprising that older workers are desperate. According to an analysis released on Friday by the National Employment Law Project (NELP), since the start of the Great Recession, the number of long-term unemployed older workers more than quintupled to 1.8 million in 2011.
In addition, NELP researchers found that compared with other age groups, once older workers became unemployed, they were most likely to become long-term unemployed. In fact, forty percent of older workers who were unemployed during 2011 were jobless at least a year, the highest rate among all age groups.
There are economic and political implications for the problems older workers have had with work.
---