Goldman Sachs culture 'toxic'? Letter confirms suspicions about Wall Street.
Polls show that Americans hold a very low opinion of Wall Street, and a damning public letter of resignation from a Goldman Sachs executive could only amplify that perception.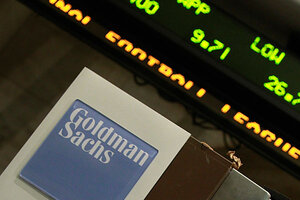 Brendan McDermid/REUTERS/File
The opinion article in The New York Times has a simple headline: "Why I am leaving Goldman Sachs," written by Greg Smith, identified as a former executive director.
Mr. Smith, with more than decade at the firm, then goes on to describe the culture at Goldman Sachs "as toxic and destructive as I have ever seen it."
He says he knew it was time to leave when he could no longer look students being recruited by Goldman Sachs in the eye and tell them Goldman was a great place to work. Instead, he describes a place where making money off the firm's clients became the mantra.
Smith's description of the firm fits with Main Street's perception of Wall Street these days. Despite the run-up in the stock market, many people view Wall Street as a place where fat cats rake in huge bonuses, and lobby aggressively against attempts by Congress to rein in their activities.
"Wall Street is not held in high regard so this is certainly not going to help," says Dennis Jacobe, chief economist at the Gallup Organization in Washington. "I think one of the things that is under-perceived on Wall Street and many of the financial sectors is how badly the financial crisis has hurt the reputation of everyone involved with Wall Street."
---