Student loans: Rates to double. What's the cost?
Student loans backed by the federal government are set to become more expensive this summer, when their interest rate doubles from 3.4 percent to 6.8 percent. The rate hike would affect Stafford student loans, and thousands of students are protesting.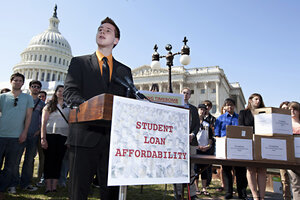 Manuel Balce Ceneta/AP
[Editor's note: This story has been updated.]
A popular federal student loan is set to become pricier this summer, at a time when a college education is becoming prohibitively expensive and student loan debt is outpacing credit card debt.
That's because interest rates on subsidized Stafford loans, a popular brand of federal aid for low- and middle-income students, are set to double from 3.4 percent to 6.8 percent. The higher rate will apply to new student loans made after June 30. Depending on the size of the loan a student takes out, that could mean up to $5,000 in extra loan repayments after graduation.
On Tuesday, thousands of students descended on Capitol Hill to protest the increase, delivering more than 130,000 letters to members of Congress asking to keep interest rates where they are. According to the U.S. Public Interest Research Group (PIRG), approximately 8 million students take out Stafford loans each year.
The 3.4 percent rate is actually a product of gradual rate lowering by a Democrat-controlled Congress over the past four years. In 2007, lawmakers introduced the College Cost Reduction and Access Act, which lowered the then-6.8 percent rate on the Stafford loan incrementally until 2012. The July increase would be a return to the original rate, though Democrats are trying to delay it. Rep. Joe Courtney (D) of Connecticut has introduced a bill that would stop the rate hike.
"If Congress does nothing, borrowers taking out the maximum $23,000 in subsidized student loans will see their interest balloon by an estimated $5,000 over a 10-year repayment period and $11,000 over a 20-year repayment period," Mr. Courtney wrote in an op-ed for the Huffington Post last month. "Students who took out loans have a responsibility to pay them back. But the government shouldn't balloon payments at a time when our economy is still struggling to climb back from the worst recession in generations.…Failing to pass this legislation will make it harder for smart, hard-working Americans to join and stay in the middle-class."
---