Cash mobs: a new boost for local business?
Saturday is International Cash Mob Day. Like flash mobs, cash mobs use social media to organize. But they don't perform, they spend money at a targeted local business.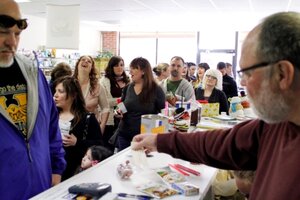 Colleen Lefholz/The Hutchinson News/AP/File
In cities across the nation, people are gathering. Organizing via social networking sites, they are meeting up at prearranged places, at prearranged times. Armed with $10 and $20 bills, these mobs have one goal: boosting the local economy through support of locally owned, independently operated business.
Inspired in part by the flash mob phenomenon of large-scale, public choreographed song and dance number fame, this new trend, known as "cash mobbing," just may be heading to a local business near you.
"We're trying to reorient consumer behavior," said Andrew Samtoy, a Cleveland lawyer who was one of the first cash mob organizers, and a major advocate for the national movement. His Cash Mobs blog has proclaimed Saturday, March 24, as International Cash Mob Day.
At a time when the economy is sluggish and consumer spending flat, cash mobs organize groups of consumers year-around in an effort to reward small businesses involved in the local community. Cash Mobs has a continually updating list of mobs around the United States – and now in at least nine other countries. Mr. Samtoy estimates there are mobs being organized in over 150 cities worldwide.
"We're adding more every day," he said. "I'm not even sure exactly how many there are at this point."
Like many grass-roots movements, the structure of the movement is loosely defined, and its exact point of origin is hard to pinpoint. Samtoy first had the idea this past September, after watching the thievery of some flash mobs, and the rioting going on overseas in London.
Unbeknownst to Samtoy, one month earlier and a few hundred miles away, a Buffalo blogger named Chris Smith had independently organized a similar mob. When a reporter pointed this out to the Cleveland group, the two groups were introduced.
"Chris told me, 'It's not about getting credit, don't worry about it,' " Samtoy said. " 'It's about supporting small business, it's totally organic.' "
Organic or not, the phenomenon has come a long way in the past six months. The Cash Mobs blog, for example, includes tips for starting your own mob and a list of 12 rules for the prospective mobber. The first piece of advice listed in the "Want to start a cash mob?" section of the blog: Create a Twitter handle.
Social networks have streamlined the organizational aspect of cash mobs, Samtoy said. Like flash mobs, cash mobs are using Twitter and Facebook to reach a large number of potential mobbers quickly and effectively. A quick search across Twitter turns up dozens of related handles including CMSanDiego, CMIndianapolis, and CashMobAtlanta.
Crowd sourcing via local Cash Mob Facebook pages and Twitter accounts is also how the businesses are chosen. Mob Rule No. 1 is: The mob date must be announced at least a week in advance via Twitter. Rule No. 2 continues: The location at which to meet will be announced, but not the specific business to support.
Rules No. 8 and 9 on the Cash Mob blog are focused on getting mobbers together after shopping, to relax and socialize. Samtoy takes these two rules seriously, envisioning a grand best-case scenario where mobs create the beginning of a national "reclamation of our communities."
"Getting people together, having people start to interact, meet people they wouldn't otherwise meet," Samtoy said. "If we can get a more civil dialogue about what's ailing our country now, I think that would be fantastic."
Romance wouldn't be a bad thing either. "I'd like to see a cash mob marriage come from one of these," he said.
The first store to be mobbed by Samtoy and crew was a Cleveland bookstore called Visible Voice, followed by a consignment shop, a toy store and a comedy club. Alison Oxford, the organizer of the recently formed Cash Mob Atlanta, said their first mob patronized local running shoe and apparel company Big Peach. Mobbers in St. Petersburg, Fla., hit Haslam's, the state's oldest independent bookstore, while a boutique gift shop christened Anything Goes in Warwick, R.I., was the happy recipient of a mob in the first week of February.
Timothy Hudyncia is the co-founder of the Rhode Island group Let'sBuyLocal.org, a business alliance he helped found in November to raise awareness of ways to create and sustain healthy local economies. Mr. Hudyncia is part of the "buy local" movement, which has been increasingly involved in the promotion of cash mobs across the country. Buy local advocates appreciate the fact that cash mobs raise awareness of their platform, and many have been quick to capitalize, organizing mobs of their own.
"There's an awful lot of evidence showing that the local economy is healthy and vital when a large portion of expenditure is at local business," Hudyncia said. "We're all in this together. The sooner we stop looking and acting as islands, the sooner we get to someplace very special, which is feeling like we're a part of the fabric of the community. We've gotten away from the fact that we're all stewards of the local community."
---