US Treasury bond yields hit record low as eurozone worries mount
A decline in global stock prices Wednesday shows that many investors are taking sanctuary in US Treasury bonds, anticipating major convulsions in the eurozone – and perhaps its breakup.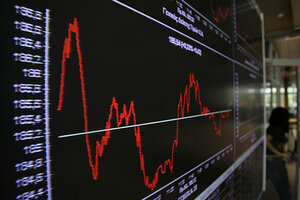 Thanassis Stavrakis/AP
Global stock prices fell Wednesday and investors fled to the haven of US Treasury bonds, as investors showed deepening uncertainty about Europe's debt crisis.
The immediate concern is that Europe could be entering a downward spiral that will harm the world economy. New elections in Greece are barely two weeks away, and that isn't the only eurozone nation where the ability to repay debts is in doubt. Spain's woes, including its new effort to prop up a private bank, are a major factor in Wednesday's stock-market slide.
The yield on the 10-year Treasury note fell to just 1.63 percent in mid-day trading – a record low. Translation: Investors are so worried about stocks that they're putting their money in US Treasury bonds, which are safe but hardly a bullish investment. At the 1.63 percent yield, the bonds are earning less than the rate of inflation.
By contrast, bond prices were falling in Europe, pushing interest rates up on perception of rising risk of default. Borrowing costs rose for governments in Spain and Italy, nations that pose a high risk of default if the eurozone fails to work out a survival plan.
Stock prices in Europe fell about 2 percent Wednesday, and America's Dow Jones Industrial Average was down about 1 percent, near 12400, at mid-day.
---