E-book battle: Libraries, publishers square off on pricing
E-book publishers are worried about profits shrinking if libraries go digital, and they're hiking e-book prices. Stretched thin by lean budgets, libraries are slow to embrace digital content. Can the two sides reach a solution?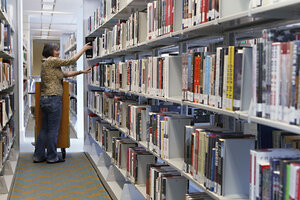 Ed Andrieski/AP/File
In the hushed atmosphere and among the staid bookshelves of your public library, a battle is brewing over digital content.
On one side are librarians, stretched thin by lean budgets, who are eager to get more electronic books into the hands of readers and satisfy a growing need in their communities. On the other side are publishers, jittery about slim profits, who are making it harder for libraries to get electronic content. Some publishers have raised e-book prices by up to 700 percent for libraries. Others are imposing new lending restrictions. Several major publishing houses aren't selling new e-books to libraries at any price.
"Everyone is trying to figure out what the actual business model is going to look like," says Belinda Boon, a collection development expert at Kent State University's library school in Kent, Ohio. "There have been a lot more efforts in recent months for libraries, vendors, and publishers to try to come to some kinds of agreements."
The standoff is hurting both sides.
For libraries, the tougher purchasing environment is hampering efforts to add electronic holdings, which libraries effectively lease through licensing agreements with distributors. The Tuscaloosa (Ala.) Public Library, for instance, says it paid $12 last fall for an e-book edition of Random House's fantasy novel "A Game of Thrones." Now the price has leapt to $105, according to Director of Collection Development Amy Patton – a 700 percent increase. (Random House declined to say how much libraries pay for individual titles.)
---