US adds 80,000 jobs in June, as growth remains sluggish
Job creation in June was affected by the financial crisis in Europe, uncertainty about the future of health-care reform, and even the heat. A rare bright spot? Hiring of temp workers is up.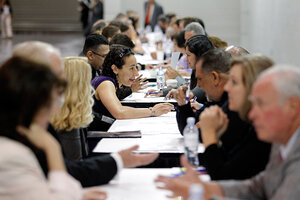 Jae C. Hong/AP
The economy has started the summer at a walking pace – a slow walking pace.
This lethargy was reflected Friday in the June jobs numbers issued by the Department of Labor, which reported that the economy created only 80,000 new positions. The unemployment rate remained unchanged at 8.2 percent.
The June numbers were the third consecutive month of disappointing job data. Over the past three months, the US economy has created fewer than 100,000 jobs per month. Within the June data, there was one bright spot: Payrolls and hours worked rose at a decent clip, indicating that businesses, while they might not be hiring, were giving their workers overtime to fill orders.
The slow job growth has important ramifications. First, it puts additional pressure on the Federal Reserve, which recently began a new effort to reduce long-term interest rates. Secondly, the lack of job growth makes it easier for presumptive Republican nominee Mitt Romney to question President Obama's handling of the economy. And third, the low number of new jobs puts the economy closer to the brink of another recession.
"For the last three months we've averaged about 75,000 jobs a month," says economist Joel Naroff of Naroff Economic Advisors in Holland, Pa. "That is approaching stall speed."
It's not surprising that job growth in June was so anemic given world events, says Mr. Naroff.
---