Standard Chartered money-laundering deal: Did New York jump the gun?
Standard Chartered Bank will pay $340 million to New York for laundering money to Iran, but by acting before the federal government, the state took an unusual step that could ruffle feathers.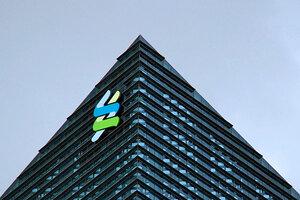 Kevin Lam/REUTERS/Files
Normally, there is a pecking order when it comes to prosecuting crimes of international finance: local officials defer to state law enforcement, who defer to the feds, who are usually the big bird on the perch.
But that's not how it's worked in the case of Standard Chartered Bank. The bank is paying a $340 million penalty to the state of New York, which threatened to revoke its license over charges that the bank laundered money to Iran over a seven-year period.
New York's actions prompt questions about why federal officials, who have been looking at the same information for the past five years, did not act sooner – and whether New York has damaged its relationship with the federal government by going first. Indeed, the agreement could force the federal government's hand, and the US Treasury may not want to accept less money than the state of New York.
"I think they will take action, but they won't do it with a smile on their faces," says Jimmy Gurulé, a former undersecretary for enforcement at the US Treasury, now a professor of law at Notre Dame University in South Bend, Ind. "The optics of this will look very bad if the state takes action and the Feds do not."
---