Chevy Volt: GM's loss leader under new scrutiny
The Chevy Volt is losing money for GM two years after its debut. But initial losses on investments in new auto technology are typical, and the Chevy Volt may offer GM an environmentally responsible 'halo effect.'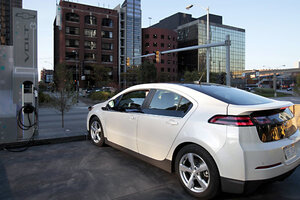 Rebecca Cook/Reuters
General Motors is years away from making money on the Chevy Volt, its electric plug-in hybrid. And a new report suggests that Chevy loses up to $49,000 on every Volt it produces.
But that doesn't mean that the car is necessarily a dud for GM. In the long term, GM's big technology bet could still turn out to be a winner, while the disparity between the Volt's costs and its revenues have been exaggerated by a short-term promotion.
During a Chevy summer promotion that ended Sept. 4, a potential driver could sign a contract to lease a Volt for $279 a month, sometimes $199 or less. That meant customers could lease a Volt for around $5,000 over two years, driving a car that costs several times that to produce.
"The lease deals are amazing and making this car really affordable for a lot of people" says Bradley Berman, a writer and green car industry research expert who contributes to the New York Times, Reuters, and others. "But it's temporary discounting, and I don't know what GM's long-term pricing strategy is. If you keep lowering the price, there can be a lot of problems for that car."
The focus on the Volt's production costs has intensified since a Reuters report suggested that Chevrolet, a division of General Motors, spends an estimated $75,000 to $88,000 to built a Volt. The base price of the 2013 Volt is right around $40,000. Thus, GM could be losing up to $49,000 on every Volt it sells.
---