The Fed's new plan: Will buying mortgage bonds create jobs?
Fed chairman Ben Bernanke announced a new bid to 'quicken the recovery.' The move, in the runup to an election expected to turn on jobs, isn't political, he said, but 'based entirely on the state of the economy.'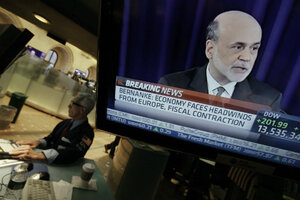 Richard Drew/AP
The Federal Reserve launched a new effort to rev up economic growth Thursday, and framed the policy with a bold statement of conditionality: The Fed said it will buy a large volume of mortgage securities every month until the job market shows substantial improvement.
"If the outlook for the labor market does not improve substantially," the Fed's policy committee said, then the program of buying mortgage bonds at a pace of $40 billion per month will continue or be expanded.
The Fed also said it expects to keep short-term interest rates at "exceptionally low" levels through at least the middle of 2015. That's a year later than what the Fed had been espousing.
The new policy effort comes after months in which the US economy has showed only tepid growth, and the unemployment rate has remained at 8 percent or higher.
"The idea is to quicken the recovery," Fed Chairman Ben Bernanke said in a press conference Thursday afternoon. "What we need to see is more progress [on jobs].... What we've seen in the last six months isn't it."
The Fed action also comes at an unusual moment: less than two months before a close presidential election, in which the health of the economy is the central issue. Bernanke defended the central bank against accusations in some quarters that its actions may amount to meddling in politics.
"We make our decisions based entirely on the state of the economy, and the needs of the economy," Bernanke said.
---