Stock market has tumbled since Obama reelection. Are investors angry?
The stock market has gone into a bit of a tailspin since the election. Wall Street's disappointment with the outcome will pass quickly, but concern about the 'fiscal cliff' is mounting.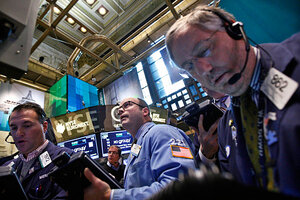 Brendan McDermid/REUTERS
Investors thought the election might answer some political questions. If that's the case, Wall Street traders did not seem to like the answers.
Tuesday's election reaffirmed all the elements that led to gridlock during the past two years – reelecting President Obama and leaving the balance of power in Congress unchanged. In response, Standard & Poor's 500 stock index has fallen 3.4 percent. Stock markets tried to rally Friday, but the effort had little energy with the Dow Jones Industrial Average closing up about 4 points for the day and down 3.2 percent since the election.
"What we are seeing is a hissy fit reaction," says Fred Dickson, chief investment strategist at D.A. Davidson & Co. in Lake Oswego, Ore. "The last day or two they have been acting like 5 year olds, but we know that kind of thing passes very quickly, and they are on to the next thing."
The next thing for Wall Street is mounting concern over whether Congress and the president can reach a compromise on taxes and the budget. If they don't, the economy could go over what has been called the "fiscal cliff" as taxes automatically rise and spending gets pared. Economic analysts have said the tax increases and spending cuts would drive the economy into a recession.
---