Small businesses fume, now seeing 'Obamacare' as unavoidable
Election 2012 ended hopes among small businesses that Obama's health-care law would be upended. Papa John's and others are threatening layoffs and higher consumer prices, citing added costs of doing business under 'Obamacare.'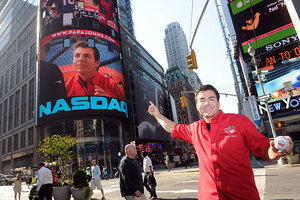 Diane Bondareff/Invision for Papa John's International/AP/File
With the 2012 election ending their hopes for a reprieve from President Obama's sweeping health-care reform law, a number of business owners across the US are threatening to lay off workers, slash employee hours, or add surcharges to their services, citing higher costs of doing business once all the provisions of "Obamacare" kick in.
The Affordable Care Act (ACA) of 2010 requires companies with more than 50 workers to provide health insurance to employees who work at least 30 hours a week, starting in January 2014. If they don't, they must pay the government $2,000 a year for each full-time employee minus the first 30 workers.
Among the businesses that have gone public with their concerns are the following:
• Papa John's International CEO John Schnatter says he is likely to reduce worker hours at the pizza chain to avoid having to pay for their health care. Obamacare will cost his company $5 million to $8 million each year, or 11 to 14 cents a pizza, he told the Naples Daily News in Florida over the summer.
---