Home sales up, inventory down: good for home prices and for builders
The US housing recovery marched on in October with several positive signs: sales, prices, and permits to build new homes were up, and the supply of homes for sale was the lowest in years.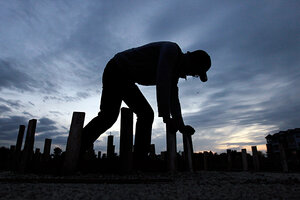 Nam Y. Huh/AP
The US housing recovery continued in October, with a relatively tight market raising the prospect of further gains in home prices – and a revival of new construction.
Sales of previously owned homes and condominiums rose to an annualized rate of 4.79 million units in October, the National Association of Realtors said Monday. That's not a big change from the prior two months, but what's notable is that the inventory of homes available "for sale" has been falling steadily since April.
The current inventory represents a 5.4-month supply at the current sales pace, the lowest since February 2006 – before the housing boom peaked and the market crashed.
Tightening supplies are one reason prices have been rising. The median price for a previously owned home was $178,600 in October, up 11 percent from a year ago.
Many housing analysts are predicting more gains in prices, as long as the economic recovery remains intact. In turn, all this confirms to homebuilders that they can get more people busy with hammers and concrete mixers.
That message has already been heard somewhat. New permits for single-family homes are up 22 percent over the past 12 months, according to data from the National Association of Home Builders. Permits for multifamily homes are up even more, 55 percent. And in the stock market, the price of an exchange-traded fund that invests in home builders has risen about 90 percent over the past year.
---