How Twinkies could survive even if Hostess doesn't
The financial fate of Hostess Brands still appears uncertain, but several companies are eager to step in if the iconic bakery fails, which means Twinkies and Ho Hos could live on.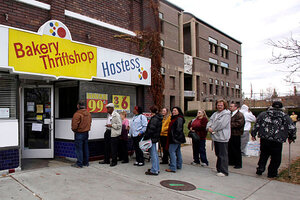 Kera Williams/Standard-Examiner/AP
For those panicked consumers considering a Twinkie bake set on eBay for some extortionate price, a word of caution.
No matter the outcome of the mediation session between Hostess Brands and the Baker, Confectionary, Tobacco Workers and Grain Millers International Union, Twinkies, Ho Hos, and Sno Balls may yet return to grocery store shelves.
Since Hostess announced last week that it planned to file for Chapter 11 bankruptcy – saying a two-week strike by the bakery union caused irreparable financial damage – a rush for its iconic sugary snacks has hit supermarkets and convenience stores across the country.
Yet that very outpouring of gastronomical grief could be a saving grace. Even though Hostess sales are not as robust as they were in the past, the products still possess strong cultural value – and many companies are apparently eager to purchase Hostess assets if the company continues with its motion to file for bankruptcy Wednesday.
"There is a consumer reaction that comes viscerally when you get rid of an iconic brand," says Susan Fournier, a professor of marketing and an authority on brand research at Boston University School of Management. "That's just the evidence these brands have resonance, they have meaning, they have value, and [consumers] are going to miss them."
---