Why wait for Black Friday? Deals you can get right now.
Terms like 'Black Friday' and 'Cyber Monday' are getting outmoded as retailers offer specials earlier than Thanksgiving. JoS. A. Bank, for one, has a sale that runs through Wednesday.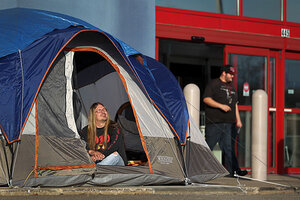 Scott Shaw/The Plain Dealer/AP
It's official: With Black Friday just around the corner, retailers are falling over themselves to attract your attention – and to distract you from things like work, family, and football.
The consumerist frenzy known as the holiday shopping season is already in full swing.
But for US shoppers, the bargain-hunt map is a bit fuzzy. Do the best opportunities lie in wait at stores this Friday, or online? More to the point, do the terms "Black Friday" and "Cyber Monday" mean much anymore?
Those labels, while they still carry some meaning, are no longer to be taken too literally. Yes, there'll be some very reduced price tags awaiting early-morning shoppers on Friday. And yes, lots of consumers will use their work computers for some personal shopping Monday, even as they're getting back to their day jobs.
But the blurring lines of these concepts is also more apparent than ever this year. Talk of "Black Thursday" and "Cyber Weekend" hints at the fading of sharp distinctions. Big-name stores like Wal-Mart are pushing to lure customers on Thanksgiving night, and many have sales running early in the week.
Often, the bargain you can find in a store will be matched online, with free shipping to boot.
Technology adds to the mix: Smart-phone apps allow consumers to quickly compare in-store and online prices.
---