GDP comes in strong. But will 'fiscal cliff' slow growth?
The economy grew at a 2.7 percent pace in the third quarter, according to the latest GDP report, but the road ahead depends heavily on how politicians deal with the fiscal cliff.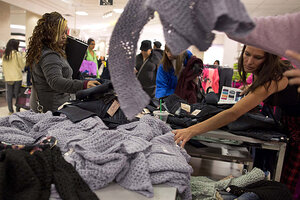 Julie Jacobson/AP
The US economy grew at a 2.7 percent pace in this year's third quarter, a stronger showing than had originally been estimated.
The new tally, released Thursday, came after the Commerce Department had reported a month ago that the third-quarter growth rate was just 2 percent.
Although stronger growth is better than deceleration, the latest report on gross domestic product comes with two big caveats.
First, the upward revision came because of a spike in inventories – goods that were produced but not sold during the quarter. Yes, that stocking-up may have helped companies when those Black Friday shoppers rolled in, but that kind of gain can't be repeated quarter after quarter unless the production is matched by a rise in consumer demand.
Second, the road ahead depends heavily on dealing with the "fiscal cliff" – what President Obama and Congress do about the scheduled tax hikes and federal spending cuts that are poised to affect consumption in the new year.
"A slowing trend already looks likely in the fourth quarter due to storm disruptions and because business confidence has sunk to its lowest for a year, hit in particular by uncertainty caused by the looming fiscal cliff and ongoing worries about the euro zone crisis," economist Chris Williamson of Markit wrote in an analysis Thursday.
---