NHL lockout: CBA gives players defined pension plans. How rare is that?
The NHL lockout officially ended over the weekend, and the league will switch to a fixed pension plan for retired players at a time when most industries are moving away from them. But pensions are still common in professional sports, where careers, and earnings windows, are relatively short.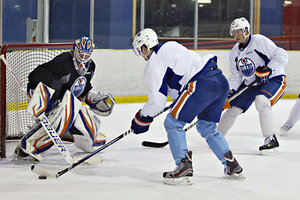 Jason Franson/The Canadian Press/AP/File
The 2013 NHL season looked doomed, but hockey is back. The NHL Players' Association and league owners finally reached an agreement to end the league lockout and save their season. Training camps opened over the weekend, and the shortened regular season begins next Saturday. 
Among the more hotly debated issues, like player market share and contract term limits, the league's new Collective Bargaining Agreement included a smaller, curious provision: a pension plan for retired players.
 The new CBA, which runs for ten seasons with an opt-out clause after eight, has a provision that gives eligible retired NHL players a defined benefit pension plan.  That means they will receive a set monthly amount of money in their retirement years. Since 1986, the league has given players defined contribution packages, wherein players would put money into their retirement funds and the league would match it.
The shift comes at a time when most industries are switching their retirement compensation plans – but in the opposite direction. Working for a few decades and then getting a fixed monthly sum from an employer upon retirement used to be fairly common. But as financial markets became more and more volatile, companies largely switched to defined contribution plans, in which an employee puts money away for retirement while working (often, the company will match the employee's contribution). This places the financial risk of the retirement nest egg more squarely on the worker, rather than the employer.
The shift became a sticky issue during the NFL's referee lockout last fall. The refs had pension plans, But the NFL wanted to move them to defined contribution packages, which most NFL employees already had. In the end, the NFL delayed the shift until 2016. 
So to have a defined pension plan at all is rare. To revert back to one? Nearly unheard of.
 That said, most professional sports leagues have defined pension plans for their athletes, in part because their time working in those leagues is relatively short compared to other occupations. In the NHL, median career length is four years. The median NHL salary is about $2.5 million per year.
That means a pro hockey player who enters the NHL at 22 and has an typical career at a typical salary retires at 26, then probably has to make the $10 million he earned last for another five decades or so. In that case, a fixed pension makes sense.
"You might not think pro athletes earning millions would have to worry about the risk of outliving their retirement savings." Sonya Stinson wrote in a detailed rundown of the retirement plans of seven major professional sports leagues on Bankrate.com "But when you consider their retirement could conceivably stretch 50 years or more, that risk isn't so far-fetched."
Under the old CBA, players qualified for full retirement benefits at 45 and reduced benefits at 35.  Players qualify for retirement compensation after one regular season game, but the enjoy the full extent of the NHL's retirement package, he must play 160 games (a typical regular season is 82 games). 
The other major professional sports leagues have defined pension plans as well, and the amount a player gets per month typically depends on how many seasons he worked. The MLB has one of the more generous plans: making it 10 seasons at the major league level will earn you $200,000 per year in pension.  In the NFL, retired players get a fixed credit amount for each year of service; their monthly pension is that credit amount multiplied by the number of seasons played. Both the NFL and the NBA have 401(k) contribution plans in addition to the pensions; the NBA requires three years of service for  a  player to qualify.
The most interesting retirement plan, though, might be in professional golf. The  PGA Tour's retirement benefits are based largely on merit – there are no guarantees, and the more consistently a player makes the cut at pro tournaments the more money he will earn in deferred compensation.  And portions of the payout rewards for the FedEx Cup, the Tour's season-long points competition, come in the form of deferred retirement compensation. 
---