New report reveals stunning disparities in health-care costs
A joint replacement at one Los Angeles hospital costs $297,000; at another, 12 miles away, it's $84,000 – a gap that health-care experts say could help consumers, armed with such information, play a role in driving costs down.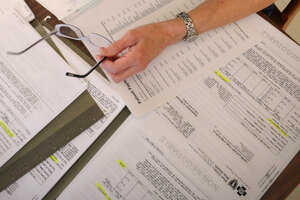 Don Petersen/AP/File
Everybody knows US medical costs are high. Now Americans get to see exactly how those high prices can vary from hospital to hospital – sometimes within a very short space of miles.
The federal Centers for Medicare & Medicaid Services on Wednesday released a new database that lays the issue bare in stark detail.
Consider the disparity just within the nation's largest state: California.
In one type of joint replacement procedure, charges vary from a high of $297,000 at Centinela Hospital in the Los Angeles area, to a low of $84,000 at St. John's Health Center in Santa Monica or Pomerado Hospital in Poway.
Those locations are all in coastal Southern California. St. John's and Centinela are only about a dozen miles apart.
Similar gaps in prices results span across other procedures and other states and cities.
The data trove comes as health care costs are already in the national spotlight, thanks to their impact on family and government budgets and partisan disagreement over what policies will best address the problem.
Disparity among hospitals raises the question: Could providers migrate toward the lower-cost end of the spectrum, without sacrificing quality?
---