Ben & Jerry's ingredients won't include GMOs, company says
Ben & Jerry's ingredients won't include genetically modified organisms, which will be phased out of the company's ice cream by the end of the year. In eliminating GMOs from its ingredients, Ben & Jerry's is taking a hard line on the controversial issue of GMO labeling.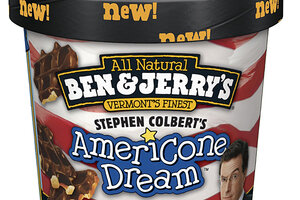 Businesswire/File
Ben & Jerry's, the affable ice cream-making duo turned global brand from Vermont, has always mixed ice cream with politics. The company has renamed flavors in suport of gay marriage and created a giant Baked Alaska in protest of Arctic drilling. Now, the ice cream itself will take a hard line on a hot-button issue.
Ben & Jerry's is in the process of removing Genetically Modified Organisms (GMOs) entirely from its products, the company announced on its website. According to the company, the ice cream sold in Canada and the US is currently about 80 percent non-GMO; in Europe, it's 100 percent. The goal is to have GMO ingredients completely phased out by the end of the year. The transition will take at least that long because of the wide range of flavors and ingredients involved.
"Because we're Ben & Jerry's, we're all about lots of flavors with lots of chunks & swirls—and that means lots of ingredients to transition," the company wrote in a blog post on its website back in April. "While most of our ingredients are already sourced Non-GMO, we decided to take this opportunity to also source any ingredient that can be Fairtrade certified as such. Our goal is for all of our flavors to be Fairtrade certified and sourced with Non-GMO ingredients by the end of the year."
Furthermore, the company will make changes so that its packaging "will be labeled with respect to GMO by the end of 2013."
In making the announcement, Ben & Jerry's, which is now owned and operated by the Anglo-Dutch conglomerate Unilever, is taking a hard stance on a murky yet inflammatory debate.
---