Stock markets shudder at prospect of 'easy money era' ending
A Federal Reserve program that buys bonds to spur economic growth could begin tapering off soon. The stock markets' reaction shows how important 'quantitative easing' became.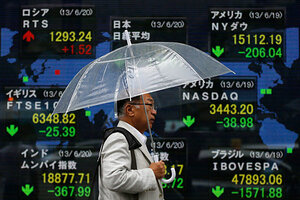 Issei Kato/Reuters
Investors around the world are having trouble digesting the latest message from the Federal Reserve – that an era of extraordinarily easy money may start to wind down as early as this fall.
The Dow Jones Industrial Average was down about 290 points (nearly 2 percent) in mid-day trading Thursday. Stock prices in Europe and Asia were down even more – about 3 percent in Germany and Hong Kong, for example.
Treasury bond prices fell also, pushing the interest rate on 10-year Treasury notes to 2.4 percent. That's a big jump since mid-May, when that rate was below 2 percent.
Chalk it all up to "taper talk," the growing realization in financial markets that the Federal Reserve may soon slow the pace of its bond-buying campaign known as "quantitative easing." The so-called QE effort, coupled with ultra-low short-term interest rates, are twin Fed policies designed to spur economic recovery since the financial crisis of 2008 and 2009.
Together, they have increased the supply of money and credit available to businesses and consumers. The near-zero short-term rates have helped hard-hit banks get back on their feet, while the bond-buying program has put downward pressure on long-term interest rates – including for mortgages.
On the surface, it may seem odd that stock markets are unsettled by something that's ostensibly good news. Conditions have improved to the point where Fed Chairman Ben Bernanke and his colleagues can actually consider the inevitable – phasing out the stimulus. Fed policymakers say they see the risk of stagnation diminishing and prospects for stable economic growth brightening.
But this "good news" brings challenges. Some investors worry the Fed outlook for the economy too optimistic, and may result in a move to withdraw stimulus before the economy is ready to grow solidly without that support. Second, even if the Chairman Bernanke orchestrates a change with appropriate timing and pace, a shift in central bank policy is never easy. Tightening of monetary policy can be a precursor of recession.
---