US home prices rise again: why this housing recovery has legs
Consumer confidence is up, and the population and demand for housing are growing. And, after a six-year slump in new home construction, the supply is down, all fueling a steady rise in US home prices.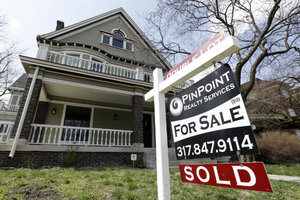 Michael Conroy/AP/File
Home prices rose in April at their fastest pace since the housing bust, adding to evidence of a recovery and upward momentum in the long-troubled US real estate market.
Average home prices rose 12.1 percent in the 12 months that ended in April, according to Standard & Poor's Case-Shiller index of sales activity in 20 major US cities. That's a stunning rise of essentially 1 percent per month.
In April alone, the index logged a 2.5 percent gain in home values compared with March, the fastest gain in more than six years of tracking.
Not all cities have seen equal gains.
Big gainers over the past year have been hard-hit markets that are getting back on their feet: Atlanta, Detroit, Las Vegas, Los Angeles, Phoenix, and San Francisco all posted price gains between 19 and 24 percent.
In the case of San Francisco, "back on its feet" means the market is back to the Redwood-high home values for which the Bay Area is known.
---