College choices increasingly driven by money, says survey
Parents are no longer footing the bill for college. Scholarships, grants, and loan packages are covering tuition now, leading to choices based more on finances than academics, like less expensive colleges and more marketable majors.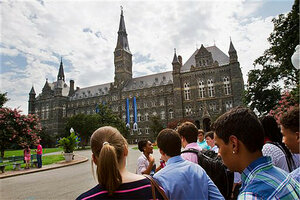 Jacquelyn Martin/AP/File
College costs are driving decisions about which schools to attend, what to study and even where to live, according to a report from loan giant Sallie Mae.
Parents no longer foot the largest portion of the bill, according to the lender's annual survey. That role goes to grants and scholarships, with student loans coming in third as fewer students borrow money for school.
While the recession has largely passed, economic worries have not, and many families are making college choices driven by fears of tuition hikes and job losses, according to the survey.
"Parents are willing to stretch themselves," said Sarah Ducich, Sallie Mae's senior vice president for public policy. "It's not that they're not willing to pay. It's that their income is not keeping up."
College spending per student was about $21,000 during 2012, down from a peak of $24,000 in 2010, according to the Sallie Mae-Ipsos Public Affairs report.
The annual survey of student financial aid found students earned about $6,300 in grants and scholarships to pay for college costs in 2012, taking the top spot from parents. Parents chipped in $5,727 on average, a decrease of 35 percent since 2010.
In terms of percentages, the typical family relied on grants and scholarships for 30 percent of college costs and parents' income and savings for 27 percent. Student borrowing accounted for 18 percent while the remainder came from student income and savings, parent borrowing, and relatives and friends, according to the Sallie Mae report.
---