Yippee! Economy grew at good clip after all. Is US out of the woods yet?
The US economy grew at an annual rate of 2.5 percent in the second quarter – higher than the initial 1.7 percent estimate. That's much better, too, than the first quarter's 1.1 percent. But stumbling blocks lie ahead.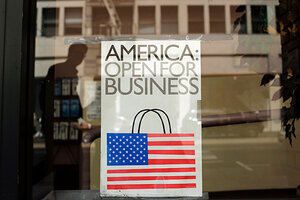 Robert Galbraith/Reuters/File
The US economy grew at a 2.5 percent annual rate in this year's second quarter, a pace that's solid but doesn't wipe away all financial worries for American workers and consumers.
The good news is that 2.5 percent is stronger than the 1.7 percent initially estimated when the government first reported on second-quarter growth a month ago. Many forecasters see that momentum continuing.
Even so, for millions of Americans the recovery from a deep recession is far from complete.
The economy, moreover, faces real or potential challenges in the months ahead – including uncertainties about both foreign trade and the impact of policies in Washington.
"Threats … can easily be seen from potentially higher oil prices [to] political discord in Washington and the impact of higher interest rates on housing and other interest rate-sensitive sectors," Doug Handler, an economist at the forecasting firm IHS Global Insight, wrote in an analysis of the latest government numbers.
He notes that the economy also weathered threats earlier this year, as higher taxes went into effect and growth weakened in overseas economies.
Today, if anything, the US economy is in a better place than then, Mr. Handler says. Corporate profits have risen from year-ago levels, consumer spending is growing modestly, and there's little excess buildup of inventories in factories and stores.
The 2.5 percent growth rate of gross domestic product (GDP) represents a welcome step up from a first-quarter rate of 1.1 percent. The Commerce Department revised the second-quarter number upward (from the 1.7 percent estimated in July) based on an improvement in the foreign trade picture. Exports, which count as an addition to GDP, were larger than initially estimated, and imports were smaller.
---