5 lessons of the Great Recession
Five years after the worst crisis since the 1930s, America has devised safeguards and changed the rules of Wall Street. But could the country really avoid another financial collapse?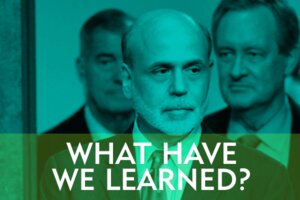 AP Photo/Staff illustration
Christopher Dodd remembers the moment – vividly. Even though he had witnessed a lot of history during his 30 years in the US Senate – wars, impeachment proceedings, terrorist attacks – Mr. Dodd recalls this encounter as one "seared in my memory."
It was Sept. 18, 2008. Lehman Brothers, the New York financial firm, had collapsed three days earlier because of its risky investments and the fall of the housing market. The Federal Reserve had already bailed out Bear Stearns, another investment-banking firm, and AIG, the big insurance company. Other Wall Street firms were tremulous. The stock market was plunging. Credit markets were seizing up nationwide.
Fed Chairman Ben Bernanke and Treasury Secretary Henry Paulson Jr. called a meeting with top lawmakers. They met early that evening in House Speaker Nancy Pelosi's Capitol Hill office, where a mural on one hallway wall depicts – perhaps prophetically – a maiden floating in the air with no visible means of support.
It was at this meeting that Dodd, who was in the room as the chair of the Senate Banking Committee, remembers Mr. Bernanke, a man usually as placid as the Federal Reserve's marble exterior, saying flatly: "Unless you act in a matter of days, the entire financial system of this country and a good part of the world will melt down."
---